The same technique was used in permanent makeup for long years. Those who were able to work skilfully with precision did not need any courses, professional development trainings since there were no new techniques. The overall impression changed because guests wanted eyebrows of different shapes or lips of different colours but the technique was always the same. Machines became more refined, the range of needle modules expanded, pigments improved throughout the years but permanent makeup styles and options hardly ever changed.
However, there has been an immense turn in permanent makeup in the last few years and changes are still going on today. A number of novelties have appeared in every field and guests have been really positive about the changes. New techniques have appeared, the realistic representation, the 3 D permanent makeup and makeup offering a natural look have all spread. Permanent makeup artists of today need to train themselves if they want to keep their guests or if they would like to be up-to-date and find out about novelties. Trainings are a must if one wants to improve their knowledge and provide precise, thorough services of high quality. However, not only is it an obligation to learn but it is also fun as many permanent makeup artists are committed professionals who are positively obsessed with their jobs.
Techniques taught by us all come from the world's leading permanent makeup professionals. We can teach you the latest trends and we can help you integrate them in your own style. Alexandra Patkós learnt these techniques soon after they first appeared on the international market, so she has a large number of references. The teaching material contains such elements which meet the Hungarian permanent makeup artists requirements combined with the novelties.
We recommend our courses to mainly those permanent makeup artists who are open to refined effects, high standards and who would like to find out about new techniques in their mother tongue and also need support after completing the course.
High-standard trainings are not available at low costs neither abroad nor in Hungary just like permanent professional makeup artists providing high quality work do not have to charge cheap prices. They can afford to charge an amount that reflects more the high quality of their work. In addition, they can benefit from the advantages of having a clientele looking for quality, renewal and novelties.
Alexandra Academy provides support in this development. However, it is also possible to bring your basic techniques to perfection as well as learn new ones.
If you have already completed a basic course elsewhere but after 2-3 months you still feel that you lack knowledge, do not hesitate to contact us with any problem. We can help you!
If you have been working with permanent makeup for long years and you can do basic techniques well but you would be happy to learn new ones, you can learn about new trends in a small group or individually . You can expand your services.
Useful information:
The 

courses

 cover a number of topics so everyone can select the ones most suitable to them.
Each 

course

 contains extensive theoretical part, because this is also essential to success.
Each permanent makeup artist participating in our 

course

 is also entitled to ask for help in the future when issues arise at work!
We undertake our 

courses

 product-independently! You come to learn new skills!

All trainings are very intense, with a lot of new features, correlations, explanations, so arrive relaxed if you can!

We recommend using your own permanent makeup device, but if necessary we can also provide all the facilities.

You may bring your own model for practical work, but we can also provide.

During the 

courses

 you will be provided with full board (coffee, soft drinks, filtered water, cookies, fruit, lunch).

If you would like to ask for the training to be held in your job facilities, this is possible!

The principle we believe in is a lot of practice, because only by this the small details become more attractive.

Homework is also given that you may make at your own pace, but it will encourage you to practice.
What to bring:
Come wearing comfortable clothes, you may also bring slippers.

We provide training materials, workbook and note pad, pen, practice skin.

It is good to have camera or smart phone with you that is able to make good quality photos. 

Your own permanent makeup device, if you want to the practice with it.

Write up all of your problems, which occur during the making of permanent makeup.

​
opinion
"It is not the price of the course that is too much but the amount of money you lose each week or month by not having sufficient and up-to-date knowledge. In this case, your guests can feel your uncertainty and that is why you do not have as much work as you want!"
Patkós Alexandra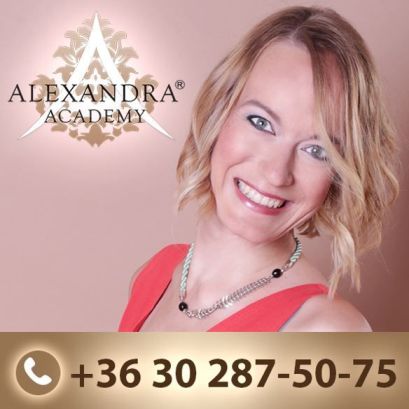 We look forward to your application.
Ask for advice how to improve yourself!